Our Business
Overall Image of the Qol Group Business
The Qol Group consists of two businesses, the "Pharmacy Business" and the "BPO *1 Business," and we are engaged in business that supports medical care and health in these respective areas. We maximize the synergistic effect of each business and contribute to the development of the healthcare field with the comprehensive strength of the entire group.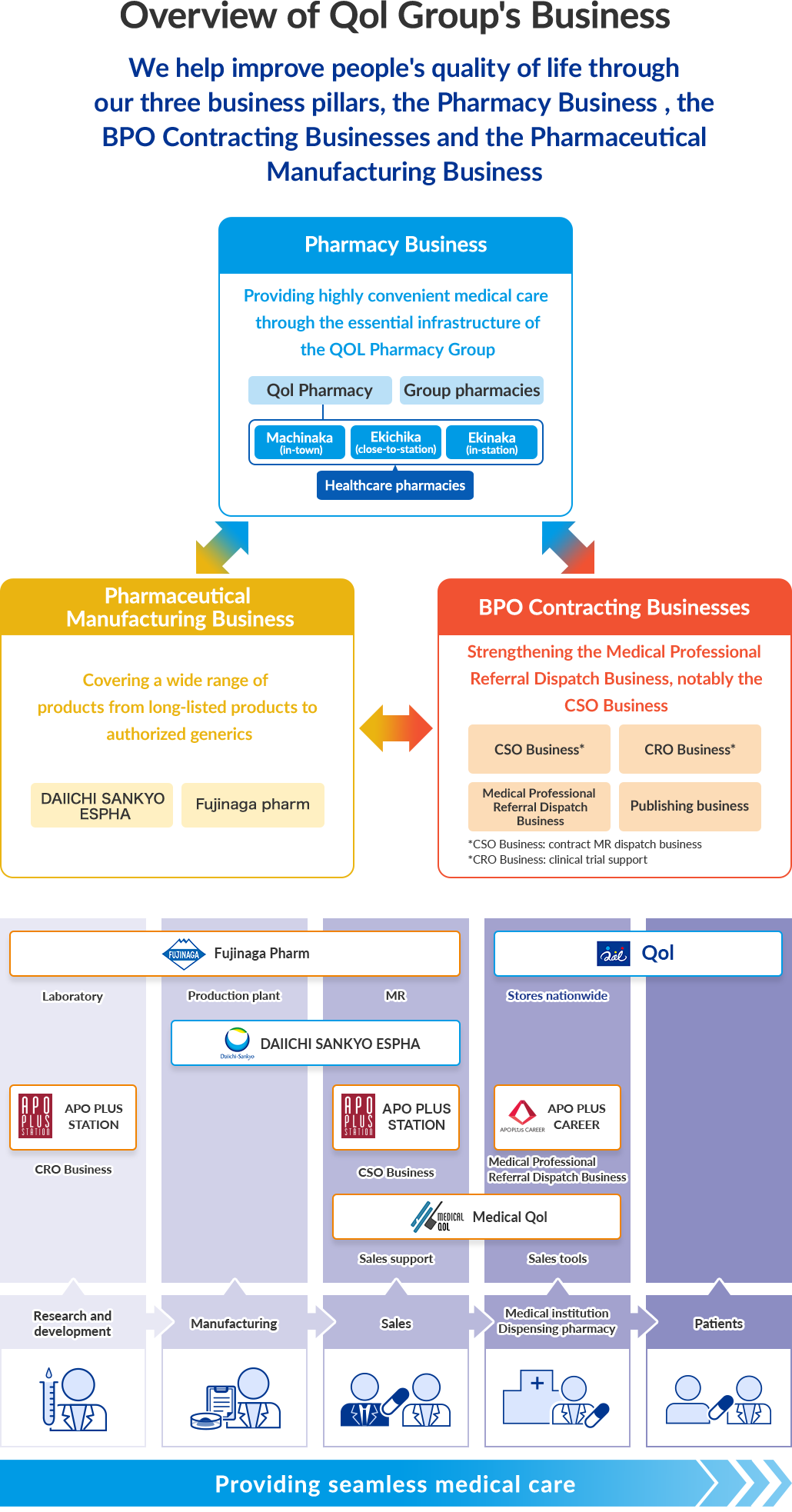 *1

BPO (Business Process Outsourcing: Continuous outsourcing of part of business processes to external professional companies)

*2

CSO (Contract Sales Organization)

*3

CRO (Contract Research Organization)
Pharmacy Business
Since its founding in 1992, we have developed dispensing pharmacies nationwide from Hokkaido to Okinawa through one-on-one store opening based on one-on-one trust relationships with medical institutions. By establishing collaboration with medical institutions, one-on-one pharmacies can provide safe and secure medical care, and can be matched to the characteristics of the region and the prescribing medical institution. We are expanding our pharmacies with high-quality medical care and health support functions as family pharmacies that are needed in the community.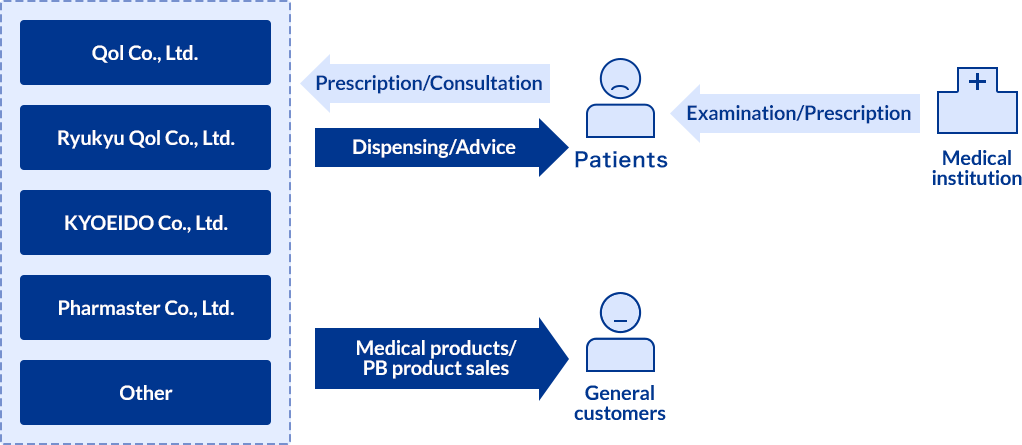 BPO Business
The BPO Business is a service in which business processes from pharmaceutical research and development to sales are outsourced to the external company, the Qol Group. We conduct outsourcing for sales support (CSO business), clinical trial support (CRO business), and advertisements and publicity. We are aiming to optimize our business portfolio with the Pharmacy Business by expanding the BPO Business which is independent of government policies.
CSO Business
In addition to outsourcing or acting as an agent for sales and marketing activities, and providing a series of services related to the sales activities of pharmaceuticals by contracting with pharmaceutical companies, we also provide temporary staff dispatch for pharmacists, nurses, registered sellers, and registered dietitians, etc.

CRO Business
We provide clinical trial support services for pharmaceuticals and foods. We provide support, monitoring, and technician dispatch services of high-quality managers for all processes, from planning of trial execution plans to monitoring, secretariat support, statistical analysis, and presentation of conference papers.
Publishing related business
We receive subcontracting and production of promotion of medicine sales, brochures and websites for medical institutions to inform them of proper use, and medical information books and magazines for medical professionals and patients. We accurately grasp changes and needs and support both patients and medical professionals.